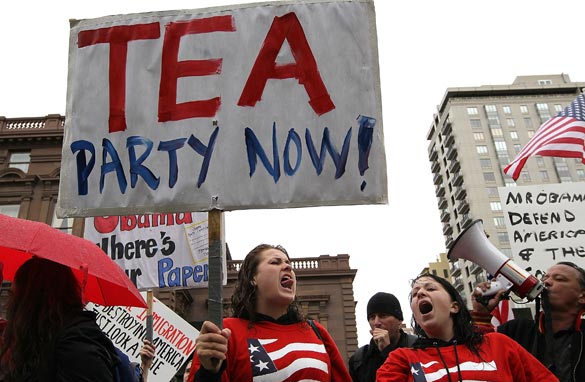 Back in 2009 or 2010, I often found myself ranting about the things the Left would say about the Tea Party. No, the Tea Partiers aren't some Astroturf mirage, I would grumble. Nor are they a mob of downtrodden sans-culottes, a band of fascists, or a generic herd of populists. The Tea Party is just a new name for the ageless, timeless conservative Republican base, an enduring American social-political formation that vomited up a Reagan in 1976, a Goldwater in 1964, a John Bricker in 1946. From generation unto generation, they have been white, affluent, Protestant, and deeply right wing. They're not new.
So I was gratified to see that a comprehensive and scholarly examination of the Tea Party has finally arrived. Theda Skocpol and Vanessa Williamson's The Tea Party and the Remaking of Republican Conservatism is based on an encompassing analysis of polls, news reporting, and scholarship, but also on the authors' first-hand observations and interviews with local Tea Party groups in several different cities. It's a first-rate piece of real-time scholarship that I commend to everyone. Best of all, the book largely confirms me in everything I grumbled.
The TP'ers, write the authors, "are overwhelmingly older white citizens, relatively well educated and economically comfortable…Almost all are Republicans or conservatives." Many are "currently or formerly in professional occupations such as medicine and engineering. Yet the plurality seemed to be small business owners, often in fields like construction, remodeling, or repair." ("With very few exceptions, the grassroots Tea Partiers we have met fit the same broad social profile.") Especially delicious for me was this nugget: "A surprising number of the people we met dated their first political experience to the Goldwater campaign in 1964. Virginian Mandy Hewes told the story of her mother writing a song called 'Let's Go Back to the Constitution' in 1963." (It's fifty years later and they're still trying to go back to it!)
But there's one point where I have to quibble with Skocpol and Williamson. In her academic work, Skocpol is, among other things, a scholar of civil society who frets about the withering of American civic organization, and alongside the authors' distaste for the content of Tea Party politics is an admiration for the Tocquevillian spirit of their grassroots enterprise. They're keen to posit a sharp divide between the tens of thousands of ordinary Tea Partiers who meet weekly in local diners and public libraries and the big-dollar, billionaire-funded elite Republican organizations like FreedomWorks and Tea Party Express that have appropriated the Tea Party brand. The story the authors tell is one in which these elite organizations have leeched onto the Tea Party rank-and-file, harnessing their enthusiasm and milking their grassroots authenticity in furtherance of a plutocratic agenda that is somehow alien to the spirit of the real Tea Partiers.
Skocpol and Williamson are astute and honest enough to point out facts that stand at odds with this story. They observe that the Tea Partiers themselves are overwhelmingly opposed to raising taxes on the rich. And they write:
From time to time, journalists suggest that Tea Partiers are just as skeptical of big business or business abuses as they are of government. But there is little evidence of this. Tea Partiers speak of corruption in government and in labor unions they see as closely tied to government and the Democratic Party. Business, by contrast, is idealized as a free-market, entrepreneurial force. More than one Tea Partier we spoke to told us they thought of themselves as "proud capitalists," and of course many are small business people. Like other conservatives, Tea Party members perceive small business owners and potential entrepreneurs as in the same boat with the wealthiest of corporate CEOs.
To support the notion of a divide between the Republican elite and the rank-and-file, the authors largely rest their case on the issues of Social Security and Medicare. They argue that while Tea Partiers revile government programs for the poor, they have "considerable affection for Social Security and Medicare." While their rhetoric might decry "government spending" in the abstract, what they really oppose in practice are programs that benefit those they deem undeserving or unworthy — in other words, bureaucrats, immigrants, or people on welfare. Social Security or Medicare, on the other hand, they consider to be benefits one earns through a lifetime of work.
This sort of analysis gives comfort to a certain interpretation of the American right that is extremely popular on the American left. Here, for example, is a recent analysis of Newt Gingrich's victory in the South Carolina primary from The Nation:
Professional conservatives who actually believe in free market capitalism clucked their tongues at Gingrich's attacks on Romney for having presided over some layoffs at Bain Capital. They even predicted it would backfire among Republican voters. But it didn't. That's because Republicans don't actually favor free market capitalism or small government.

Gingrich's theme of making people work instead of living the easy life of getting by on food stamps and welfare appeals to Republicans because it is fundamentally a cultural appeal. It's about attacking the values of some indolent pack of others, be they minorities, young people, immigrants, hippies or city-dwellers. That's why middle-class and working-class whites—who do not benefit from Republican economic policies—vote for them.

The people who actually favor free market economics out of principle or self-interest—the rich and political professionals—mostly supported Romney in South Carolina. But they are relatively small in number.
There is apparently something comforting in the thought that free-market ideology is a dogma believed only by a tiny elite of the very rich. But then some explanation is needed for why millions of Americans seem to embrace it. The answer is usually something like the above – the notion that rank-and-file conservatives play-act a love of small government but that this is really just a mask for some tangle of irrational cultural resentments. The implication, I suppose, is that somewhere out there is some true specimen of free-market ideology that is arrived at through a process of pure ratiocination or bloodlessly calculated self-interest. But this is an illusion. The Koch brothers or Sheldon Adelson have a romance with capitalism is just as full of passion, resentment, and cultural identity as any Tea Partier's.
Back to Skocpol and Williamson. How does their Social Security and Medicare case hold up? They make abundant use of polling data to argue that when it comes to slashing government spending, Tea Partiers draw the line at those two programs. But their empirical case is a bit one-sided. For example, they cite a Public Policy Polling survey in which Tea Partiers, like the rest of the population, overwhelmingly preferred raising the Social Security tax to seeing "benefits cut and the retirement age increased to age 69." But just a few months later — at the height of the debate over Paul Ryan's plan to slash and privatize Medicare — the same polling firm found that when asked to choose between "raising taxes on the wealthiest 2% of Americans or privatizing Medicare" to close the deficit, the general population favored the former (64% to 22%) while the Tea Partiers favored the latter (52% to 36%). Similarly, Skocpol and Williamson note a New York Times poll in which 62% of Tea Partiers agree that Social Security and Medicare are "worth the cost" to taxpayers. (Not hugely different from the 76% of the general population who said so.) But in the same poll, self-described supporters of "smaller government" were asked whether they would favor it if it "required cuts in spending on domestic programs such as Social Security, Medicare, education, or defense." Only 29% of the general population were willing to go that far. Among Tea Partiers the number was 67%.
Now, beyond the psephological details, it's indisputable that Tea Partiers make some kind of conceptual distinction between universal programs like Social Security and Medicare and other government programs. But this says less about the Tea Party than it does about universal social programs. It is easy for liberals to point to the Tea Partiers and call them bigots because they make a distinction between "people on welfare" and "normal people." But in fact it's the state that made the distinction first. When the state operates a means-tested or other conditional program, it inspects each citizen and stamps him or her as belonging to one category or the other, either as part of a "food stamp class" or a "normal American" class. By contrast, no one is perceived as being part of the "Social Security class" — or, rather, everyone is perceived as belonging to it together.
Political scientists have long known that something almost alchemical happens to public opinion when a universal, as opposed to a mean-tested welfare program, is established. Even those citizens who are most likely to oppose a redistributive program on grounds of ideology or self-interest – like Tea Partiers – will look on it with less hostility. And the universal programs the Tea Partiers grudgingly approve of do far more to reduce poverty than the means-tested ones that liberals make a badge of pride: more than five times as many children and elderly are kept out of poverty by Social Security and other social insurance programs than by "welfare" and other means-tested programs.
So what Skocpol and Williamson are discovering is not really "considerable affection" for Social Security and Medicare on the part of the Tea Partiers; rather it's a well-known political effect by which affluent conservatives in every country in the world find it far easier to oppose means-tested programs than universal ones. This, by the way, is true even in Sweden (see the table on p. 17 of this). In fact, when you think about it, it's rather unfair to treat the Tea Partiers' willingness to accept painful cuts to Social Security benefits as the acid test of their small-government sincerity. Most of them are older people who've spent years paying into the programs and planning their retirements around them. They really had no choice in the matter.
And that's why, in the end, whatever psychological ambivalence the Tea Partiers may feel about universal programs that they've been forced to pay into and are now expecting a payout from, politically the Tea Party is a staunchly anti-Medicare, anti-Social Security movement. In fact, after the Ryan plan won the vote of every House Republican but four, one of the four dissenters, Danny Rehberg of Montana, was mercilessly assailed by his local Tea Party group (charmingly named "Montana Shrugged"). Skocpol and Williamson themselves are wise to this: "Even where Social Security and Medicare are concerned," they predict, "Tea Party people may come around to ultra-free-market nostrums, if phaseout legislation includes a long timeline, so that older people today and tomorrow believe they will be held whole in federal programs, while big cuts are put in place for younger cohorts."
This shouldn't be surprising. The Tea Partiers are lineal descendants of the activists who gave the GOP nomination to Barry Goldwater – the only presidential candidate who ever interrupted his campaign so he could return to Capitol Hill and vote against establishing Medicare. Liberals have spent too long condescending to conservatives as if they were the perpetual victims of a bait-and-switch scam. Focusing on the noxious bait is a convenient way of ignoring the vexing popularity of the hook.

If you like this article, please subscribe.